What Is More Dangerous For A Child- Guns or Swimming Pools?
Ready For a Big Surprise?
I recently read the New York Times Bestseller (2005), "Freakonomics". The book studies the riddles of everyday life. It discusses and shares answers to questions like: What is more dangerous, a gun or a swimming pool? What do schoolteachers and sumo wrestlers have in common? How much do parents really matter?
The answers to most of the questions REALLY surprised me. One that jumped out at me is that on any given year, there is one drowning of a child for every 11,000 residential pools in the United States. What this means is that in a country with 6 million pools, roughly 550 children under the age of ten drown each year. Another more recent study not in the book points out that 10 people a day die from drowning in the United States.
Together with my partner, Lisa Wilson, we've represented many people involved in drownings. In the drowning cases I handled and because of the experts I've engaged and research I completed, these numbers were something I knew about.
Here's what I didn't know.
Each year, there is 1 child killed by a gun for every 1 million-plus guns. Again, in a country with an estimated 200 million guns (at the time of the 2005 book), this means that roughly 175 children under ten die each year from guns.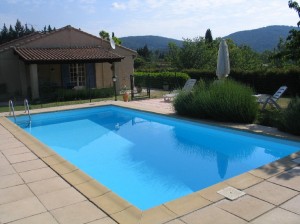 Looking at the numbers, the likelihood of death by pool (1 in 11,000) versus death by gun (1 in 1 million-plus) isn't even close. Children under the age of ten are far more likely to die in swimming accidents that by guns.
Sure, the book is a few years old and the numbers may be slightly different today, but they should grab your attention. Parents and any other adults charged with child safety at pools need to be much more diligent. The facts demand it!
P.S.- The picture of my son and I was taken a few years ago by his grandfather after a morning at the local indoor firing range. Although we're having fun for the photo, safety always comes first. I'm holding a 357 Smith & Wesson and Garrett has his grandfather's .50-Cal Smith and Wesson. Both guns are unloaded and our fingers are not on the triggers. Safety first!
Posted By
Jackson & Wilson