Orange County Lawyer Selected "Top One Percent"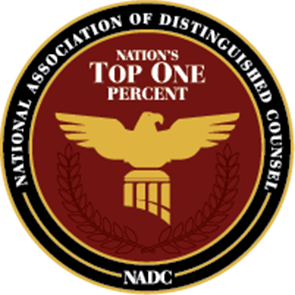 The National Association of Distinguished Counsel
Senior Partner, Jon Mitchell Jackson, Recognized by the NADC!
This organization is dedicated to promoting the highest standards of legal excellence. It's mission is to objectively recognize the attorneys who elevate the standards of the Bar and provide a benchmark for other lawyers to emulate. Members are vetted by a research team, a blue ribbon panel of attorneys, and a judicial review board. By virtue of the incredible selectivity of our appointment process, only the top one percent of attorneys in the United States are awarded membership in this organization.
The roster of members truly consists of the leading legends of the legal profession. They are featured prominently on networks and in publications such as ABC, NBC, CBS, MSNBC, FOX, The New York Times, The Washington Post, Time, and Newsweek.
In addition to Mr. Jackson, other prominent members include:
Barry Scheck
Member of the O.J. Simpson murder defense 'dream team' and Co-Director and Co-Founder of the Innocence Project which to date has resulted in the DNA based exonerations of over 300 wrongfully convicted individuals.
Roy Black
Notable clients include William Kennedy Smith, Rush Limbaugh and Kelsey Grammer; Successfully defended 3-time Indy 500 winner and Dancing with the Stars champion Helio Castroneves in a 6-week tax trial.
Posted By
Jackson & Wilson