Orange County Lawyer, Mitch Jackson, Receives Prestigious "California Lawyer Attorneys of the Year" Award (CLAY Award)
The Litigation Lawyer of the Year (CLAY) Award went to Jon Mitchell Jackson of Jackson & Wilson in 2013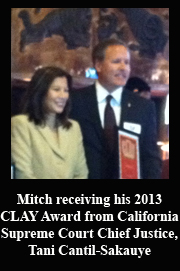 The annual CLAY Awards recognize lawyers throughout the state whose legal work made a significant impact. They include state and county prosecutors, sole practitioners, and lawyers from large international firms. This year, we are very proud to announce that Mitch has been named a CLAY Award winner for his litigation efforts!
According to California Lawyer Magazine, the CLAY Awards recognize attorneys who have changed the law, substantially influenced public policy or the profession, or achieved a remarkable victory for a client or for the public and have made a profound impact on the law. Furthermore, the awards identify accomplishments in several different areas of legal practice, ranging from criminal law and intellectual property to personal injury, and appellate work at the California Supreme Court, the Ninth Circuit, and the U.S. Supreme Court. These victories reflect the breadth and depth of the work performed by California lawyers.
Mitch enjoys helping clients with their legal "challenges" and is humbled to be named as a 2013 CLAY Award winner.
Click here to see some pictures from our trip to the CLAY Awards in San Francisco!
Posted By
Jackson & Wilson