BP Will Plead Guilty to Criminal Manslaughter Charges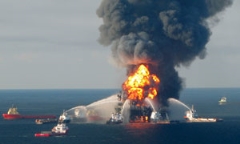 BP has agreed to plead guilty to criminal manslaughter charges stemming from the 2010 Deepwater Horizon explosion and oil spill in the Gulf of Mexico. It has also agreed to pay $4.5 billion in government penalties.
A federal grand jury also returned indictments charging the two highest-ranking BP supervisors on board the Deepwater Horizon with 23 criminal counts. Specifically, they were charged with seaman's manslaughter and involuntary manslaughter for each of the 11 men killed in the blast.
We'd like to hear from criminal defense attorneys about these charges. Please share your thoughts and comments by selecting the link below this post.
Do you think a company such as BP can and should be held accountable for manslaughter charges? Is it OK to pay a penalty to resolve a criminal cases? Should one or more managing officers of BP go to jail?
With respect to the two BP supervisors charged with 23 criminal counts. Do you think they should stand trial for manslaughter and involuntary manslaughter?
Posted By
Jackson & Wilson