24 Things You May Have Missed From Jackson and Wilson in 2011
New free services: "Telephone Tuesdays", "Webinar Wednesdays", "Twitter Thursdays" and "Facebook Fridays"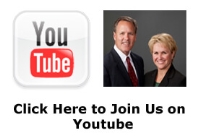 New videos on our updated Youtube Channel!
Webinars– Free Wednesday Webinars for people who need legal help
New ebooks and reports including our brand new and extremely popular ebook entitled, "The Truth About Your California Personal Injury and Wrongful Death Case"
Updated social media links: Connect with us on Facebook, Twitter, Linkedin and Google Plus
Facebook– Updated Jackson and Wilson Facebook Page. Are you one of our 10,700 "friends"?
Twitter– Updated Twitter page– 11K followers get daily updates. Do you?
American Bar Association Magazine article featuring senior partner, Mitch Jackson and entitled, Lights, Camera, New Business: Video Shows Human Side of Practice
Testimonials– Dozens of new testimonials from satisfied clients and distinguished lawyers
MyVideoLawyer.com– New free video service at MyVideoLawyer.com allows you to meet with our senior partners from the comfort of your own home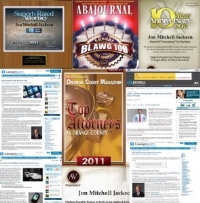 Lawyers.com interviews and commentary
Family Settles with Exterminator Whose Poisons Killed Their Children
How Facebook Could Ruin Your Case
Juror Use of Social Media, Blogs Compromises Cases
https://mitchjackson.thinkific.com/ – New free service for lawyers– Get your litigation and trial questions answered for free.
New J&W smart phone app– New free app gives you 24/7 legal protection in the palm of your hand!
New list "100+ Things We Do For Our Clients"
New"connect tool" allows you to contact us via the web from almost anywhere in the world!
Live Interview: "Three Good Ways to Find an Excellent Lawyer and Nine Questions You Need to Ask When You Interview Him or Her
New ebook entitled, "The Five Most Common Mistakes We See Lawyers Make at Trial"
VeriSign– Jackson and Wilson web site "approved" by respected company VeriSign
"Hot Coffee" movie (The truth about the McDonalds case) finally available to consumers
2011 lawyer awards, rankings and ratings (Southern California Super Lawyer, AV Rating 10 year anniversary, nominated trial lawyer of the year…)
2011 videos to help educate consumers about their important legal rights (subscribe to our Youtube Channel!)
Updated "Attorney to Attorney" referral program– Learn how to generate an additional income without taking on any new clients or cases!
New free email newsletters. 7,500+ readers can't be wrong!
Posted By
Jackson & Wilson