50 Years of Protecting Consumer Rights
Consumer Attorneys of California- 50 Years of protecting consumer rights
50 years ago the California Trial Lawyers Association was born. Over time, the organization grew and ultimately became the Consumer Attorneys of California.
We've been active and proud members of the CAOC for at least two decades and maybe longer (time sure does fly). It's an organization of more than 3,000 attorneys who represent plaintiffs/consumers and who seek responsibility from wrongdoers…
Consumers injured or killed by defective products or drugs;
People who suffer discrimination because of age, gender, disability or race;
Those injured or killed because of another's negligent acts;
Citizens whose civil rights have been violated;
Workers who have been fired unjustly or injured on the job;
Investors and others wronged by financial institutions (including failed savings and loans);
Insureds whose lives fall apart when an insurance company acts in bad faith and in violation of its own contract;
Patients who have been damaged personally and financially by negligent professionals.
We believe that injured consumers need to know that in most instances, the person the CAOC member represents faces an opponent with far more power and access to resources: polluters, governments, big corporations, insurance companies, automobile manufacturers, and banks. CAOC members take cases they view as worthy, invest their own resources in developing and taking such cases to court, often over a several year period, and are paid only from those cases which are successful.
Here's what CAOC has done for California consumers over the past 50 years…
Statute of limitations increased from one year to two.
75 days instead of 28 for notice of a motion for summary judgment.
The ability to make 998 offers with pre-judgment interest.
The applicability of 998 offers to arbitration proceedings.
The Homeowner's Bill of Insurance Rights.
Clarified that anti-SLAPP statute does not apply to big defendants seeking protection.
The delayed discovery statute for toxic tortes.
Employer liability for non-employee harassment.
Ethics and disclosure standards for arbitrators.
Prohibition on secret settlements in elder abuse cases.
Codification of the peculiar risk doctrine.
The right to sue an HMO.
The right to sue for age discrimination, overturning Marks v. Loral.
Attorney advertising standards.
An extension of the statute of limitations for Dalkon Shield claims.
The exclusion of the fraudulent failure to disclose policy limits from the litigation privilege, overturning California Dredging.
Court authorization procedures for special needs trusts.
The Trial Court Delay Reduction Act.
A special statute of limitations for asbestos cases.
The revival of a cause of action brought for childhood sexual abuse.
Three words: Expedited jury trials.
Three more words: Standardized electronic discovery.
Improved consumer protections for structured settlement purchases.
Nation's first rules requiring reporting on medical radiation overexposure.
The social host absolute immunity is now a qualified immunity.
The delay reduction rules no longer require severance of unnamed Does prior to the conclusion of the introduction of evidence at trial.
Amendments to the Welfare and Institutions Code to provide equitable guideposts for resolving Medi-Cal liens.
Procedures to address disability access claims.
Prevented extension of $250,000 MICRA medical malpractice damages cap to non-economic damages in all personal injury cases.
Defeated no-fault auto insurance.
Defeated initiatives to limit contingency fees.
Defeated initiatives to limit punitive damages.
Defeated initiatives to limit class actions.
Defeated initiatives limiting right to sue over construction defects.
Defeated initiatives to restrict disability access claims
Defeated proposals to impose "loser pay" provisions in California.
CAOC bills in 2011 would delete off-sets for drivers who purchase uninsured motorist coverage.
Change the standard of proof in elder abuse cases to a preponderance of the evidence.
Address pre-dispute binding arbitration agreements by changing the standard after a successful motion to compel.
Address arbitrary judicial limits on voire dire.
Ongoing efforts to ensure the courts are open and justice can be served.
Work to elect legislators who see the impact MICRA has on patients who have been injured by medical negligence.
Interview and assess each primary candidate in each legislative district.
Make strategic decisions as to which candidates to support.
Provide financial backing for candidates who believe in consumers and not corporations.
Legislative candidates we backed won 19 out of 20 elections in 2010.
Helped reduce the number of "Business Democrats" serving in the Legislature.
An unmatched record of electoral success, even when opponents spend up to four times as much.
Continually a thorn in the side of CJAC, CALA and other capitol tort "reform" vigilantes.
Offer terrific on-going education, membership benefits, communications and other services to members.
______________________________________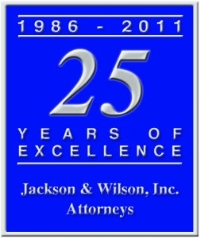 Have a question? Need help with a personal injury or wrongful death case? Need a good trial lawyer? We're standing by to help. Give us a call today!
Posted By
Jackson & Wilson