This Week's $875,000 Settlement- When Insurance Companies Put Profits Over People!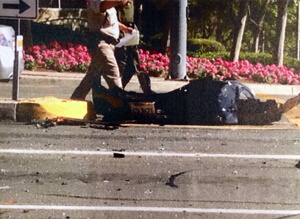 Our client was on her way home. We'll call her Sue.
She entered the intersection with a green light. Sue's car was hit on the passenger side at a high rate of speed by another driver who ran a red light. Both cars were destroyed. Sue almost died at the hospital.
Sue experienced multiple broken bones and underwent several surgeries. Her medical bills were more than $220,000.
The insurance companies for each driver told Sue they would take care of her. Her insurance company had been the family insurance company for 38 years.
All went well until about a year after the collision. Sue started getting uncomfortable with how her telephone conversations were going with the claims adjusters of each insurance company.
Sue came to us for help. She was being told that the only benefit she was entitled to was the $25,000 policy limits offered by the responsible driver's insurance company. Because this was almost $200,000 less than what her bills were, Sue didn't know what to do and so we agreed to help.
We accumulated all of Sue's medical records and bills and reviewed the facts, law, and insurance policies carefully. We contacted Sue's insurance company and determined (to her surprise) that there was an additional $1,000,000 in underinsured motorist coverage (UIM) that she was not made aware of. We then advised Sue is that if we did settle the case against the driver who ran the red light for his $25,000 policy limits, she could then assert her rights against her own insurance company under the UIM policy for the remaining benefits of up to $975,000.
We contacted the other driver's insurance carrier and offered to settle this portion of the claim for the policy of $25,000. We also conditioned this offer on our ability to take the responsible driver's deposition to get him to admit to causing the collision under oath. Our plan was to use the sworn deposition transcript in our claim for Sue's UIM policy benefits.
Rather than a deposition, it was agreed that we would be provided a sworn declaration from the other driver admitting that he was 100% at fault for running the red light and causing the collision. We do this in most cases like this and in this particular instance, the declaration proved invaluable. Click here to see the actual declaration.
After acquiring the declaration and settling the third party case for the $25,000 policy limits, we then put all of Sue's records together and submitted a demand to her UIM carrier for her remaining UIM policy limits. After several months of providing one supplemental update after another at the request of the insurance carrier, we received a phone call at 4:55 pm from the claims adjuster handling the claim.
He said that he took it upon himself to contact other drivers at the scene of the collision, and he determined that Sue must have run the red light and was responsible for causing the collision. This was the first time in over two years that Sue or our firm was advised there was going to be a liability issue. Needless to say, in our opinion this response to our settlement demand was disappointing at best and in bad faith at worst.
The adjuster went on to say that because these witnesses were in stopped vehicles coming from the opposite direction, Sue's light must have also been red and so she caused the collision.
In response, we reminded the adjuster that the other driver admitted to being at fault. That earlier we had sent him a signed notarized declaration by the other driver admitting to being 100% at fault for causing the collision (click on the image to read the actual admission). The adjuster said it didn't matter and that Sue caused the collision. Regardless of his position, he was willing to offer $325,000 to settle Sue's case.
In response to this misguided liability argument and low ball offer, we went back out to the intersection and videotaped the lighting sequence. As we previously determined, the light directing Sue's path of travel displays green while vehicles traveling the opposite direction are stopped for a red. The lighting sequence unequivocally confirmed that Sue had a green light at the time of the collision. Here is the actual video showing cars traveling Sue's direction while vehicles approaching from the opposite direction were stopped for the red light. For example, in this video, Sue would be the red car that is stopped and then proceeds through the intersection as depicted at about the 28 second mark.
We uploaded the video and sent the link over to the claims adjuster. He looked at it, advised us that it didn't change his opinion but would increase his offer to $425,000.
Following our advice, Sue gave us permission to reject the offer, and we moved forward with UIM arbitration. During this time, we sent several letters to the out-of-state claims adjuster explaining California first party bad faith law. Eventually, the claims adjuster responded but continued to disregard the sworn declaration and video. Despite being aware that we were setting his company up for a first-party insurance bad faith case and, despite arguing Sue was still at fault, he increased his offer to $500,000. Once again it was rejected.
At the early stages of the UIM arbitration process, the claims file was reassigned to a new senior claims adjuster. He called and shared a new interest in getting the case resolved. He had obviously reviewed the file, declaration, and video.
After a week of additional negotiations, the case settled for $875,000. Furthermore, we long ago had negotiated away the $220,000 health insurance lien. Instead of having to pay this back to the health insurance company out of the final settlement proceeds, Sue was able to keep all funds.
The good news is that our client is doing better and looking forward to getting on with her life. The bad news is that this case could have and should have been resolved long ago without all the aggravation, time or expense to Sue.
The moral of this story is that consumers need to appreciate the fact that insurance companies are in business to make money. In our experience, some will routinely will do everything they can to delay claims and put profits over people.
Good lawyers know the law and know what it takes to get insurance companies to step up, follow the law, and pay insurance benefits. Although it sometimes takes a great deal of time and effort, we appreciate it when clients are patient and allow us to do our job and hold people liable for their wrongful conduct and, insurance companies accountable for the contracts they enter into with their insureds.
Posted By
Jackson & Wilson