TAKE JUSTICE BACK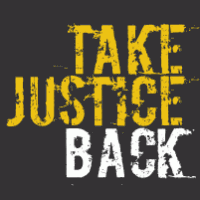 We are so excited to announce that the American Association for Justice is launching a new consumer information campaign, website, and social media campaign on November 13th entitled, Take Justice Back (www.TakeJusticeBack.com). It is a first step to reverse the most vexing problem trial lawyers and the public face today relating to well-funded attacks on civil justice by big corporations and their high paid lobbyist.
In this campaign and through the web site and social media platforms, the AAJ and its members will be spreading the word about the importance of holding corporations accountable for putting profits ahead of people. We will be reminding everyone why it is so important to hold wrongdoers who put unsafe products in to the market place such as the Ford Pinto, flammable children's pajamas, asbestos products, unsafe tires and dangerous drugs, need to be accountable for their actions.
Furthermore, the Take Justice Back effort will also focus on our very real concerns about these same corporations seeking to undermine our civil justice system by restricting trial by jury, forcing arbitration, and limiting damages through caps. Most consumers are not even aware of this. We see these artificial limitations harm American families every week and it's time for all trial lawyers to stand up and share the truth.
Look, these big companies have purposefully mislabeled this profit driven effort as "tort reform." We call it greed and simply put, placing profits ahead of people.

Thanks to the American Association for Justice, Take Justice Back is a new way for lawyers to share the truth about the "players" behind the misleading tort reform propaganda and the resulting harmful limitations experienced by people who may not be aware of how their civil justice rights are being attacked, undermined, and in many cases, taken away from them.

The website will expose corporations that use contract clauses and fine print to avoid accountability when consumers have been wronged or harmed. Take Justice Back will engage people on a broad level and will empower all citizens to take action to protect and preserve their Seventh Amendment right to jury trial.

At the site and social media platforms, stories and resources will be shared to educate the consumer as to the truth. Tools and contact information will also be available to allow concerned citizens to get more information, contact members of Congress, sign petitions, and more.

Join us and other AAJ members with sharing this new consumer oriented informational campaign. Participate in this essential dialog with knowledge and passion. As always, please contact us with questions.
Posted By
Jackson & Wilson