Injuries from Falls Affect People of All Ages, Not Just Elderly (October Newsletter)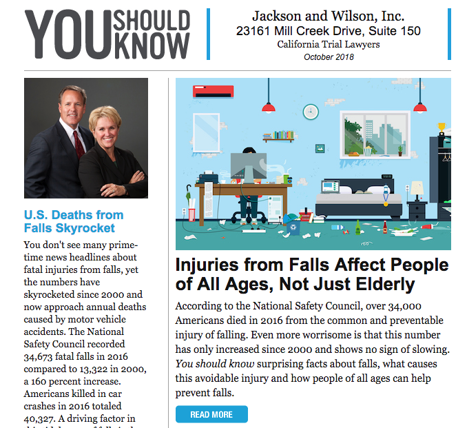 According to the National Safety Council, over 34,000 Americans died in 2016 from the common and preventable injury of falling. Even more worrisome is that this number has only increased since 2000 and shows no sign of slowing. You should know surprising facts about falls, what causes this avoidable injury and how people of all ages can help prevent falls.
 
If that isn't enough, most people are not aware of the fact that U.S. deaths from falls have skyrocketed. For example, you don't see many prime-time news headlines about fatal injuries from falls, yet the numbers have jumped since 2000 and now approach annual deaths caused by motor vehicle accidents.
The National Safety Council recorded 34,673 fatal falls in 2016 compared to 13,322 in 2000, a 160 percent increase. Americans killed in car crashes in 2016 totaled 40,327. A driving factor in this tidal wave of falls is the growing number of elderly Americans. But as we discuss in this month's newsletter, falls occur to people in all age groups in all settings.
Click here
to read this month's newsletter
Posted By
Jackson and Wilson Inc.