This First Happened 15 Years Ago!
An independent "AV" rating from Martindale-Hubble is a big deal. It's the highest rating a lawyer can get from his or her peers in the community (from other lawyers and judges) for ability and ethics.
Mitch received his first "AV" rating 15 years ago and Lisa shortly thereafter.
They both blinked and we're now here today– almost two decades later.
All of us at the firm believe everything we do is focused on providing an exemplary client experience. Because of that, everything else is easy.
As the great John Wooden once said and, as Mitch repeats daily, make today your masterpiece!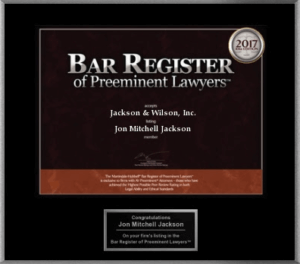 Posted By
Jackson & Wilson