Bill Cosby Gives His Deposition Today in California
In a few hours, Bill Cosby will give sworn testimony in Los Angeles as a defendant in the civil lawsuit brought by Judy Huth. In this case, Hurth alleges Cosby assaulted her at the Playboy Mansion in 1974 when she was 15.
This is Cosby's first deposition since 2005. In that deposition he admitted, under oath, to obtaining quaaludes with the intent of using them for sex with young women. Of note is the fact that since the 2005 deposition, 40 women have gone public and brought sexual assault claims and allegations against Cosby.
What Cosby allegedly did to these women is tragic. Both as a lawyer and father, I'm curious to hear what Cosby testifies to under oath. While I doubt his deposition will create as many "moments" as Justin Bieber's deposition [click to see my post with videos of Bieber], I am curious to see if Cosby admits to obtaining drugs to use on women like he did in his last deposition 10 years ago. I'll share updates on Twitter as the news comes out of LA later today.
Until then, more details can be found in today's USA Today article.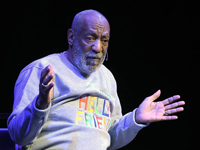 Posted By
Jackson & Wilson