Leigh Steinberg- Legendary Sports Agent
Yesterday at the 25th Annual Monarch Beach Sunrise Rotary Club's Vocational Day, Mitch had the pleasure of introducing Leigh Steinberg, one of the most famous sports agents of all time. Leigh shared life stories and business tips with about 100 high school seniors from Dana Hills and Aliso Niguel High Schools.
Also speaking during the morning event were business success leaders Jim Madrid and Tina Aldatz. Joining the students were representatives from our local schools, communities and city and county governments. All in all it was another successful Vocational Day and a big thanks to partner, Lisa Wilson, for helping put the event together with other club members. To the right is a picture of Lisa, Leigh and Mitch taken after the event. More event pictures can be viewed here.
What the students found useful and interesting is that despite the perception of being successful, there usually is much more to someone's story than what you may see at first glance. In Leigh's case, he shared with our guests that despite earning substantially more than $100M in a particular year, being given the keys to 6 different cities, and appearing on the cover of Success Magazine, he was not happy with his personal life and made several poor choices while battling a major debilitating addiction. He talked about moving forward in life and how each of us has the opportunity to put the past behind us while continuing to improve on a daily basis.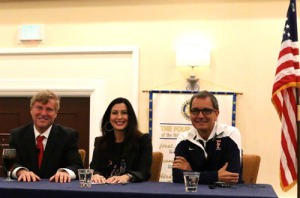 After listening to all three speakers, most of the students left the meeting with a very realistic idea about what success in business, and in life, really is. They also learned what it what it takes, each and every day, to set goals, find their passion, and make good things happen.
Vocational Day is just one of many events Monarch Beach Sunrise Rotary (the club Lisa and Mitch belong to) puts on each and every year. If you'd like to stay in contact with the club and be kept apprised of all that Rotary does in the local, national, and international communities, please get on the club's email update list available at MonarchBeachRotary.com
And just in case you're interested, here is Mitch's introduction of Leigh and an overview of his 40 year career.
---
Introduction
I first had the pleasure to meet Leigh Steinberg and introduce him here at our very first Rotary Vocational Day about 25 years ago. Since then we've stayed in touch on Facebook and even did a Spreecast together sharing business success tips to viewers around the globe. After all these years, I'm honored to have the privilege to once again introduce Leigh to you.
Over the past 40 years, Leigh has represented over 300 professional athletes in various sports including, but not limited to, football, baseball, basketball, boxing, and golf. He has represented the No. 1 overall pick in the NFL draft a record eight times and while doing so, 60 first round NFL picks.
Leigh's client list is long and has included Troy Aikman, Ben Roethlisberger, Steve Young, Matt Leinart, Howie Long, Lennox Lewis and Oscar de la Hoya and hundreds of other athletes and superstars who's names you'd probably recognize. In fact, 7 NFL players he represented are now in the NFL Hall of Fame.
During the course of his 3 decade career, Leigh has been rated the #6 Most Powerful Person in the NFL according to Football Digest, and the #16 Most Powerful Person in Sports according to Sporting News.
In addition to representing players, Leigh has been a leader in advocating player safety and encouraging awareness in head injuries and concussions.
He is also well known for his desire for athletes to make a positive contribution to society. Along those lines, Leigh insists that every contract negotiated for his players include clauses that require the athlete to give back to their hometown, high school, university or national charities and foundations. As a result, Leigh's clients have donated over $600 million to various charities around the world.
Speaking of charities, because of Leigh's direct efforts, more than $750 million dollars has been directed to various charities around the globe.
While preparing this introduction, I took a peek at Leigh's Linkedin profile. There, he shares two core values:
1) Treasure relationships, especially family
2) Make a positive impact in the world and help people who can't help themselves
I have a feeling that during today's presentation, Leigh will share with you exactly why these two core values are so important to him in life today.
When not representing athletes or teaching sports law to students as an Adjunct Professor at Chapman University, Leigh is the author of two outstanding books:
"Winning with Integrity: Getting What You Want Without Selling Your Soul"
And his latest book that came out earlier this year, "The Agent: My 40-Year Career Making Deals and Changing the Game"

Posted By
Jackson & Wilson