Today's Tuesday Morning Hat Tip™ Goes To...
Bryan Elliott | CEO of The GoodBrain Digital Studios
On weekly basis, clients who need a particular product or service contact us, in our capacity as lawyers, for recommendations. They want to do business with someone they can depend upon and a person or company who will do a good job for them. They reach out to us, as trusted advisors, to get them going in the right direction.
In response, we always enjoy sharing the names of special people and companies we believe will be able to help, provide top-notch services, and who place high standards and ethics at the top of their lists. Companies and people who always put a client and customer's best interest first and who will always go the extra mile when it comes to providing an exemplary experience.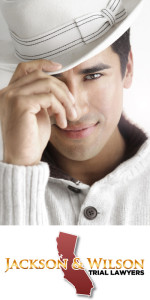 Today's Tuesday Morning Hat Tip™ goes out to Bryan Elliott, CEO, writer and producer of The GoodBrain Digital Studios. Bryan gets our recognition today for all he does to encourage and help Orange County entrepreneurs and business owners.
We first met Bryan several years ago at one of his LinkedOC events. These are special evening meetings where Bryan brings in thought leaders from around the globe to share their projects and ideas with local Orange County business owners and entrepreneurs.
Since first meeting Bryan, we've been impressed with all that he does and the value he brings to our community. He's generous with his time and to be fully transparent, Lisa and I are also grateful for him giving our daughter, AJ, an opportunity to intern last summer.
Related to his LinkedOC events, Bryan is also the editor-in-chief of Linked Orange County Magazine, a progressive business magazine and tool connecting the off and online OC business worlds.
As mentioned above, Bryan's GoodBrain Digital Studios is a boutique new media production company that creates HD quality, impactful, original video content focused on great storytelling. If you want to get noticed in the OC, this is a great place to start!
If that's not enough, Bryan is also the executive producer and host of one of our favorite shows, Behind the Brand, a TV show that profiles people who are making things happen. From up-and-comers to the big guys, Bryan and his team of experts show you how his guest go about their business so you can get insights to grow your company from the experts who've done it.
If you're an entrepreneur or doing business on Orange County, then you need to connect with Bryan Elliott. You can do so here
Because of all he does for our Orange County community, it's a pleasure to tip our hat and acknowledge Bryan Elliott in today's Tuesday Morning Hat Tip™. You can connect with Bryan using the links found in the article or on social below.
Posted By
Jackson & Wilson