Wrongful Death- Police Misconduct ($5,500,000 jury verdict)
Arthur and Jessie Lewis needed help. For the past 3-4 days, their adult son had not eaten anything and was not talking. He was just sitting on the end of his bed staring at the wall. He was non-responsive and they were worried.
This was not the first time Persian Gulf Navy Veteran, Bobby Lewis, was experiencing these issues. In fact, this happened to Bobby 3-4 times a year since he returned from his tour of duty a decade earlier. His parents were always there to hold his hand and get him through his episodes. They were a close family and always had each other's back.
But this time was a bit different. Bobby wasn't able to void and in the past was also willing to accompany Art and Jessie to the doctor or emergency room. On this particular night he just didn't want to go. He seemed a bit more "out of it" than in the past.
Concerned about his safety, Jessie called 911 and asked for help. Shortly thereafter a police officer arrived. They were invited inside the Lewis' home and without incident, asked for Bobby to be brought out from the back bedroom into the living room so they could talk to him.
Following the officer's instructions, Art walked back and held Bobby's hand as they walked out together. Together with Jessie, the three of them stood standing and talking to the officer in the family living room.
Shortly thereafter, two other police officers entered the home and walked behind Art, Jessie and Bobbie. The original officer standing in front of everyone then asked Bobbie a question. Jessie reminded the officer that Bobbie was not talking and they needed help getting him to the hospital. That's why she called 911.
The officer acted as thought Jessie had not said a word and again asked Bobby a question. He also asked Bobby to sit down.
When Bobby didn't respond the two officers grabbed Bobby from behind and wrestled him to the ground. During the scuffle, one officer placed Bobby in a carotid choke hold for about 20-30 seconds. The three eventually ended up on the ground with Bobby face down and another officer with his full weight and knee placed on Bobby's back.
They cuffed Bobby and carried him outside onto the front lawn. Shortly thereafter he was dead. The entire incident took about 10 minutes. Bobby was survived by his parents and two young children. All were our clients.
The family had originally retained the law offices of famed trial lawyer, Johnny Cochran. For whatever reason, the Cochran firm filed a lawsuit but then subsequently advised Art and Jessie they would not be able to pursue the claim any further.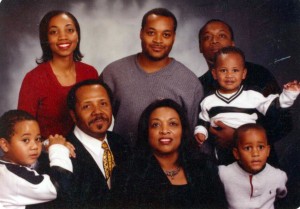 The family was then referred by their friends to our firm. After meeting with Art and Jessie and hearing their story, Mr. Jackson's heart went out to the family and he agreed to represent their interest and substitute into the case. What happened next was a 5 year journey.
Before trial, a massive amount of litigation took place and the parties participated in two separate non-binding private settlement mediations. During the first mediation the defendant county argued that its officers did nothing wrong and offered the insulting amount of only $20,000 to settle the case. The offer was immediately rejected.
Almost 5 years after the case was filed and just before trial, the second mediation took place. The hearing lasted almost 7 hours and resulted in a final settlement offer of $325,000 which all parties agreed to subject to approval by the defendant County's Board of Supervisors. The Board rejected the settlement proposal, instructed its attorneys to offer nothing, and the case went to trial.
During trial, the police officers all testified that Art and Jessie did nothing wrong and were cooperative at all times. One officer testified that Bobby "lunged" or "stepped" towards him resulting in the other officers grabbing him from behind. Art and Jessie Lewis and the two officers who grabbed Bobby from behind didn't recall Bobby doing this. All officers testified that Bobby was not fighting and did not throw any punches. He just didn't cooperate when being thrown to the ground.
Art and Jessie testified that at all times Bobby was cooperative and don't know why the officers grabbed Bobby from behind. Frankly, this is the main reason they brought their wrongful death case. Because what took place inside their home that night was preventable and should never have happened.
During the presentation of evidence, the jury learned that Art was a Deacon in his Catholic Church and both he and Jessie were actively involved in their community. The jury learned more about this close family and the two young children left behind without a father.
"First of all, it is a wonderful profession to be a defender of the law. This is especially true in the area of civil rights and defense. We think of these lawyers (and of course our own Mr. Jackson) as being the defenders of the public at large who take on the concerns and protect the defense and civil rights of people who would not otherwise be heard. Thank god for civil rights and Mr. Jackson. I would like to say that Mr. Jackson is very professional and hands on type of lawyer. He was also helpful in areas of law that we did not actually hire him for. He is always supportive and always willing to listen and give advice, even if he his opinion was different than ours on any particular matter. It was a long journey in getting justice for the death of our son (Arthur Lewis Jr.). The civility is great with the legal team of Jackson & Wilson (Lisa also because we know as husband and wife, she was a great asset to the legal effort and team). Giving God of course all the glory and sharing the victory with Mr. Jackson and all staff." – Arthur and Jessie Lewis"
The undisputed evidence was also that Bobby was well liked and very much respected. Outside of these 3-4 episodes that happened each year, Bobby was normal and friendly. Everyone knew Bobby had served his country and they were happy he came home alive. Dealing with these ongoing episodes was simply something the family was used to doing.
During trial, the police offers were not allowed to listen to each other testify. As a result, they contradicted each other's testimony. The defendant's police misconduct expert even admitted that if the facts happened as Art and Jessie testified that they did, then the police officers' conduct would constitute police misconduct.
Until Mr. Jackson cross-examined the defendant's medical expert, the expert was not even aware of the fact that Bobby had been placed in a carotid choke hold. The expert had testified earlier during direct that the loss of oxygen was caused by medical condition called asthma and made worse by some type of mystery heart condition. He further opined that Bobby's death may have also been caused by excited delirium which frankly, had nothing to do with our case.
In the end the jury appreciated the fact that our clients and their son did nothing wrong. They found that the officers had used an excessive amount of force on Bobby and awarded $5,500,000 in damages for his wrongful death. This was one of the largest police misconduct wrongful death jury verdicts in the state that year and Mr. Jackson was named one of Orange County's 2009 Trial Lawyers of the Year.
This was a very long and emotional journey for Mr. Jackson and his clients. Despite all the delays with court overcrowding and unavailable courtrooms, the system eventually worked and justice was served. We hope that this verdict made life safer for other residents living the County. Here's a video about the case put together by the Orange County Trial Lawyers Association.
Posted By
Jackson & Wilson