This Trial Lawyer's First 48 Hours Using Google Glass
It's Friday afternoon and my Google Glass has just been delivered. I hope I'm not disappointed.
Glass is simple to setup. No instruction manual needed. Simply download the Glass app, enter my wifi information and power Glass up. Instantly connected to the internet. Next, I connect Glass to my smartphone via Bluetooth.
That was too easy.
Following the instructions on a little card (there is no instruction manual), I log into my special Glass portal using my laptop. You can also do this from the Glass app downloaded to your phone. Using my Google account, I add several select contacts to Glass. By selecting a couple of boxes, I also activate and connect Twitter, Facebook, Google+, The New York Times and a few other apps.
At this point Glass allows me to make and receive phone calls, email, and text messages. It also allows me to interact on social and even search Google and browse the web (this is a new feature). I call my wife in the next room. She smiles and rolls her eyes.
I spend the rest of the afternoon and evening watching a few short videos provided by Glass to learn the controls. After my first 15 minutes or so I have the "swipe" and "tap" commands down and have become use to the floating screen.
For all you tech guys and gals out there, the screen is a high resolution display and the equivalent of looking at a 25 inch high definition screen from about eight feet away. The camera is 5 MP and videos are shot at 720p. The right side speaker is a bone conduction transducer and works great. This new generation of Glass comes with an optional right side ear speaker you can plug into the micro USB port (I haven't tried or needed to use this yet). Glass connects via Wifi – 802.11b/g and Bluetooth and has 12 GB of usable memory (16 GB flash total). It syncs with your Google + Cloud storage auto backup.
Saturday Morning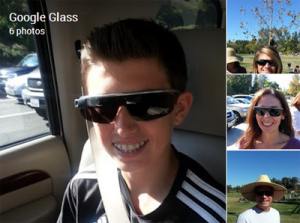 It's now Saturday morning and time to head out the door to take my son to club soccer. I touch the side of Glass which turns on the main screen. I say "OK Glass" and "Directions to Starbucks". I know which Starbucks I like to stop at on my way to the field but I was curious to see how well Glass gave directions (click the picture to the right to see some of the pics. Click here to watch a short soccer video)
Well, the directions instantly popped up and using voice commands, I had Glass show me a map (Google Maps/Directions) and then read off directions. Perfect.
My Glass came with sunshades and so used them as sunglasses as we drove over to the field (we'll save the discussion on driving with Glass for another post). Upon arrival my friends all wanted to give them a try and so I changed over to "Guest mode" and let them all give Glass a test drive without accessing my personal information. Without exception, everyone smiled and gave Glass two thumbs up.
During the game I used voice commands to take pictures and shoot vides. I also used the small button on Glass to manually take pictures. As with most smart technologies, there's more than one way to accomplish a task (tap, voice command, raise your head 30 degrees up…) and so I wanted to do some testing.
We lost. That wasn't fun. But what was pretty cool is walking back into the house and while watching the second half of the USC football game, noticing that Glass had automatically synced using my home wifi to my Google + auto backup account. I didn't need to do a thing. While watching the Trojans dominate the game and using my laptop, I logged into Google + and shared a couple of pics and one video on my social platforms. I could have done this directly from Glass but I first wanted to see the quality of image before sharing with the world. I'm happy to report all were pretty good. I spent the rest of the afternoon playing around with Glass and responding to friends emails and text using the Glass voice commands.
Sunday
Sunday my son, nephew and father-in-law and I all did a guy's trip up to Arcadia. For my birthday last August, my family arranged for me drive a Lamborghini around an autocross course and so it was finally time to put the pedal to the metal. Of course, Glass would be doing the laps with me.

Before making myself comfortable in the cockpit of this little Orange rocket, I tapped Glass twice and swiped my finger a couple of times to activate the video. Taping Glass again extended the default 10 second video record time to unlimited. I didn't try using voice commands because of the loud music and engines that surround us.

Driving the Lamborghini around the autocross course was a kick in the pants and Glass worked perfectly. The video image was great and the audio picked up the Lambo's deep sounding engine as I accelerated down the first straightaway.
Sunday Night
Last night I was playing around with Glass and trying to figure out how to have notes or an outline appear. For example, maybe notes to use during an interview or an outline to use during a deposition or jury selection.
What I ended up doing is typing or copying an outline into Evernote using my laptop or desktop and then syncing with Glass. There's a new special button in the Glass Evernote app that lets you do this. Almost instantly the outline appeared as a "Card" in Glass that I could easily read. I then copied part of a bio from Wikipedia of someone I'll be meeting later this week and shared it via Evernote to my Glass. I'll be referring to it just before my meeting. I think I'll be using this function quite often.
A couple of things I've noticed is that because there is no physical camera between you and a subject, people seem to be more comfortable during photos or videos. They're looking right at your eyes and not at the camera you're holding slightly to your left or right. It may not sound like a big deal but the experience is different than when using a camera.
Another function I'm using a great deal is the voice record to take, save and share notes. Very handy indeed.
Upcoming Jury Trial
I may be picking a jury and starting trial in 2 weeks using Glass. The judge is OK with me using Glass in court so I'll share an update if we actually find a courtroom and go forward with trial. I'll be using the outline functions I mentioned above and, recording my voir dire for later review and use.
Conclusion
Well, that's a general overview of my first 48 hours of Glass. I hope I was able to give you a taste of what Glass can do and look forward to sharing more updates as I learn more about this new wearable technology.
Just in case you're wondering what I think about Glass, I'm giving it two thumbs up and a 12 out of 10. It's pretty damn cool.
By the way, if you want to take a look at some of the pics and videos I mentioned, I've shared them on my Google + page here- http://plus.google.com/+mitchjackson
[note- this article appeared in "The Droid Lawyer" on Monday, November 11, 2013]
Posted By
Jackson & Wilson