Local Skateboarder killed by hit and run driver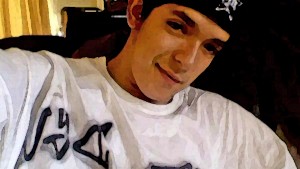 Every year we're contacted by at least a dozen families who have teenagers and young adults seriously injured or killed by automobile related accidents. It seems as though the most tragic cases often happen sometime after the clock strikes midnight.
I can remember my dad telling me many years ago that "nothing good ever happens after midnight" and this week in Laguna Niguel, his words tragically rang true again.
Sometime around 4am, local resident and skateboarder, Carlos Salas, was struck and killed by a hit and run vehicle just down the street from our home and near the intersection of Golden Lantern and Marina Hills Drive. He was dragged 25' and left for dead. Here's a short video clip from our local news station.
We don't know all the details of what happened and as of this writing, the police are still searching for the hit and run driver. What we do know is that Carlos had many friends and will be missed in the community.
The vehicle that struck Carlos is a black 1998 Nissan Maxima and registered to a man in Dana Point, California. Investigators are searching for witnesses. If you have any information about this case, you're urged to call Orange County Crime Stoppers at (855) TIP-OCCS or (855) 847-6227.
Posted By
Jackson & Wilson