KIDS, SOCCER, AND SUCCESS IN BUSINESS
Success in business, law and life is all about teamwork. In business you need to be able to work with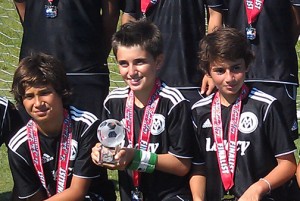 your co-workers and clients. In law, it's about being able to effectively interact with your legal team, clients, opposing counsel and judge. It's about focus and practice. It's about putting the best team possible on the field and executing your game plan.
This past weekend I had the pleasure of watching my son's soccer team compete in the La Jolla Labor Day Classic in San Diego, California. After 4 years with another club, we moved with several other players and families to the Mission Viejo Soccer Club to help start a new team. The La Jolla Classic was only the third pre-season summer tournament our kids played in as a team.
The U13 boys did great! As they've done on the practice field all summer long, they played as a unit and reached the final championship game for the third tournament in a row. Although there is always much work to do (isn't that what life is all about?), the boys encouraged each other on and off the field and got stronger with each game. From what I observed and listened to, I would venture to say that the time they spent together off the field between games was just as important for their long-term success as what they did in practice on the grass between the flags during the tournament.
Looking at some of the pictures from the tournament, I was reminded that sometimes when we grow up we start to forget how much fun it was just being a kid. We start focusing on things that never crossed our minds when we were younger and when we do this, we begin to drift further and further away from the enjoyment of life.
I think in business and in law, it's important to remember that it's OK to have fun and do business or practice law at the same time. It's OK to be a good teammate and encourage each other to excel each and every day. It's also OK to stick out your hand and help someone from the other team up off the ground when things don't go their way.
Doing business the right way is all about being a good coach and keeping the passion alive and well in your players and team. This weekend I watched our coach keep his composure and work hard to keep things positive from the sidelines. It was impressive. Unlike some of the parents standing on the sideline (yours truly included), he never raised his voice and he made sure to help the kids and parents keep things in perspective when there was a turnover or goal allowed.
In a similar fashion, long-term success in business and law is about keeping the correct perspective on what is going on. It's about proper execution of a product or service and also balancing your goals with good sportsmanship and ethics.
I'm proud of how well the boys played soccer this weekend. Watching them run up and down the field competing and encouraging each other to work harder reminded me to do the same with my teammates at the office, clients I represent, and lawyers and judges I interact with each week.
Let's all remember what it was like to be a kid. At the same time, let's stay focused, work hard, and remember to have a bit of fun now and then.
Much success!
Mitch
Posted By
Jackson & Wilson