Railroad Safety and Railroad Crossing Accidents and Deaths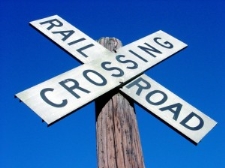 Several years ago we represented a family who had a son tragically killed after being struck by a train while pushing his bike over a bridge near Trestles. For those of you living outside of California, Trestles is a popular collection of surfing spots at San Onofre State Beach Near San Clemente, California.
What we learned while handling this case is that over the past 10 years, there were more than 3,600 train accident deaths and 30,000 railroad crossing accidents across the United States.
We also learned that most railroad cross injuries and deaths are avoidable.
What most people don't understand is that railroads have an obligation to construct and maintain safe railroad crossings. The rationale for this is that their trains travel across public highways so that the train companies can make billions of dollars in profits.
Now here's the interesting part. Despite the fact that railroad companies are earning multi-billion dollar profits (in 2010 net profits: UP earned $2.8 billion and BNSF $2.5 billion), they many times refuse to install appropriate safety devices unless city, county or state taxpayers help with the expenses. We don't think that's right.
Causes of railroad crossing accidents include inattentive train operators; defective or non-existent lights, alarms, bells and gates; failing to maintain crossings allowing for overgrown trees to hide approaching trains; and of course, motorist and pedestrians not paying attention when walking on or crossing tracks.
Truth be told, a majority of all annual railroad crossing injuries and deaths can and should be avoided. Improved safety efforts on the part of the railroads would be a good start. Additional care by motorist and pedestrians crossing the tracks would also go a long ways to reducing the number of injuries and deaths.
Posted By
Jackson & Wilson