Potential New Clients
Dear Potential Client: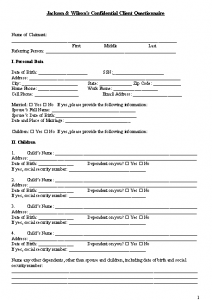 Thank you so much for contacting Jackson & Wilson Since 1986 we've enjoyed successfully helping thousands of people and their families who have experienced a catastrophic personal injury or wrongful death. Hopefully, we can help you too.
To get started, please complete our Potential New Client Confidential Questionnaire. If you like, you can download and print out the questionnaire by right-clicking on the form or via this link (right click to download to your computer)
Tip: When completing either version of our form, it's very important that you take your time and share as much information as possible. The more detailed information you provide the better we can evaluate your potential case and answer your questions. Please note that we're contacted by many new potential clients each week. People who take the time and effort to complete and return the questionnaire will receive our top priority and usually are the first to hear back from us.
Hint- If you use the "online web form" below, your answers will be emailed to us and we'll be in touch as soon as possible. Normally within hours. If you're already scheduled for an appointment, then we'll have the information available when we meet.
For those of you downloading the form to your computer, please return the completed questionnaire to our Orange County office. Our efax number is 949-861-9554 and our email address is help@jacksonwilson.com. You may also mail your questionnaire to Jackson & Wilson, 23161 Mill Creek Drive, Ste 150, Laguna Hills, CA 92653.
Posted By
Jackson & Wilson