California Supreme Court Disappoints Consumers
High Court Sided Against Consumer Rights in Deciding Howell Case
SACRAMENTO (Aug. 18, 2011) – Consumer Attorneys of California President John Montevideo expressed disappointment today over the state Supreme Court's decision impacting the long-standing legal practice of allowing injury victims to collect damages for the full value of their medical care instead of seeing an award slashed because they carry health insurance.
The court's decision in Howell v. Hamilton Meats & Provisions Inc. redefines what has been a standard of law in California since the 19th Century and remains the benchmark in nearly every other state.
"This is a setback for consumer rights in California," Montevideo said."It favors big business and big insurance over regular people." The losers are the thousands of auto accident and other injury victims in California. The major beneficiaries are those defendants and liability insurance companies.
The fight came to a head with the case of Rebecca Howell. A former school teacher and professional surfer, Howell was struck by a Hamilton Meats truck after its driver made an illegal U-turn. The accident caused a severe back injury that left Howell unable to work.
After two spinal surgeries, Howell's medical bills totaled nearly $190,000. Like every patient, Howell was legally responsible for the full cost of her care under California law. Howell was fortunate in having medical insurance that paid for her care.
Hamilton Meats' insurance attorney convinced a San Diego County Superior Court judge to cut the medical damages portion of the award to less than $60,000 after arguing that the hospitals that had treated Howell had received only that actual cash amount. The rest of the bills were offset by contractual credits negotiated between the hospitals and insurance company that covered Howell.
As a result, Hamilton Meats' liability insurance company saw the cost of the case reduced by roughly $130,000.
Montevideo said CAOC will continue to access the Supreme Court's 45-page decision in a search for ways to counter any fallout for consumers.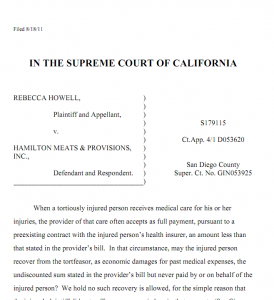 "Bottom line, we will continue to fight for the rights of victims," Montevideo said. "Setbacks like Howell, whether perceived or real, only strengthen our resolve."
_______________________
Consumer Attorneys of California is a professional organization for nearly 3,000 plaintiffs' attorneys representing consumers who utilize the civil justice system to seek accountability against wrongdoers in cases involving personal injury, product liability, environmental degradation and other causes.
Posted By
Jackson & Wilson