Sometimes Things Are Not as They Appear With Lawyer Advertising
When it comes to hiring a lawyer, what you see and hear may not be what you need or get. But before I go on, let me regress for a moment…
This past Thanksgiving we took a family trip to Italy. We ventured to Rome, Florence and Venice. While in Florence, we took the train and visited the leaning tower of Pisa, the third oldest structure in Cathedral Square. Here are a couple of pictures I took of the tower and family.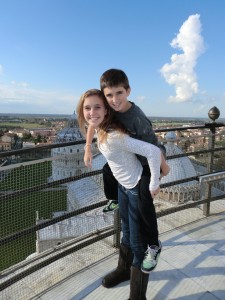 At first glance, the tower appears unstable and ready to fall over at any time. However, after talking with the guides, we were reassured that because of engineering efforts, it was safe to enter the tower, walk up the stairs and enjoy the view. Here's a pic of AJ and Garrett at the top.
So what does the Leaning Tower of Pisa have in common with lawyer advertising? Well, simply put, in many instances, things are not as they may seem.
Here's what I mean…
Many lawyers, who advertise on TV, have never taken a case to trial. Other's may have the persuasive ability to sell an Eskimo ice (injured consumers dial their number all day long) but they don't know the first thing about how to properly handle your personal injury or wrongful death case in court. Many have never ever taken a case to trial.
In other late night ads, large out of state law corporations shout out in their message that you may be entitled to money for this or that. They beg you to call their toll free number or you may lose your rights forever. What they don't clearly tell you, although I would imagine it's in the small print on the bottom of the ad, is that they are not the firm or lawyer who will handle your case. When you call their number, they "farm" out your case to a lawyer in your area who will be the handling your file.
Many times in both situations, uninformed consumers think they're getting one thing but end up with another.
And it can get worse. Here's why…
The big insurance companies keep a database of all the lawyers that bring cases against them. They know which lawyers are well recognized for their legal ability to take a case to trial and maximize its value and, they know which lawyers will roll over and settle the case for only pennies on the dollar because they're afraid to go to court.
How do we know that? We have contacts who are insurance claims adjusters. We have friends who own insurance agencies. Others are defense attorneys who work for big insurance companies. We hear things. We talk about things. And after 25 years of doing what we do, we know things.
Additionally, what many of you may not know is that back in 80's, Lisa worked as a defense attorney for a couple of years. She represented several of these large insurance companies. She and her fellow lawyers and insurance claims adjusters knew which lawyers they could play "hardball" with and which trial attorneys they needed to settle cases with.
The sad part about all of this is that most clients never know the difference. Why? Because if the lawyer can sell ice to an Eskimo, chances are, he's going to be able to sell you on accepting a settlement without you ever knowing that your case is worth much more with a little work, expertise and effort.
So, how can you avoid buying ice? Well, here are several things we've learned over the past 25 years of representing injured consumers that you should look closely at.
First, to find a lawyer, avoid random ads and commercials. Ask intelligent people who you respect who they would hire to represent them in a case. Personal referrals are a good way to find a great lawyer.
Another way to find a good lawyer is to visit the site Martindale.com and use their search function. You can drill down to particular practice area in your county. Make sure to look for a lawyer who is "AV" rated (highest rating in ethics and ability).
A third way to find a good lawyer is to contact your local bar association (official lawyer association in any particular town or county) and ask for the names and numbers of the last 3 presidents. Call their offices and see if they handle your type of legal matter. If not, ask them for several names of lawyers who they would trust to handle a similar case for their family. While you're at it, run all names through the Martindale.com site.
After you find a couple of lawyers to interview, do just that. Meet the lawyers and see who you are most comfortable with. Which lawyer were you able to develop rapport with? If you're impressed with the lawyer you meet and, are comfortable around this particular lawyer, chances are, a jury will be too. Starting to get the picture?
Once you find lawyers to interview, and that's what you're doing. You are interviewing them—not the other way around, we'd suggest that you ask the 9 important questions found in our report entitled, "Nine Questions You Should Always Ask Every Lawyer You Interview in a Personal Injury or Wrongful Death Case."
Hope you find this information helpful. Feel free to share it with your family and friends!
Mitch and Lisa
Posted By
Jackson & Wilson